Exide Edge FP-AGM24F Flat Plate AGM Car Battery Review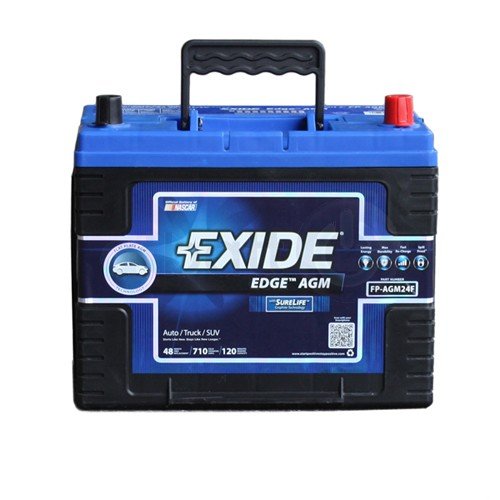 About / Description
The Exide Edge series was the first battery to feature the absorbed glass mat or AGM technology with the company's SureLife Graphite Technology. This system greatly improves total energy capacity and battery life under sustained load. AGM technology also ensures a fully spill and leak resistant design, which uses glass mat separators to keep the battery electrolyte confined to designated spaces. Designed especially to perform in stop and go city traffic, the battery can keep up with repeated engine starts and heavy cranking activity even in high temperatures. Also improved in this generation is the ability to deal with passive loads such as infotainment systems and other accessories such as additional lighting systems.
Life: This battery has a great life cycle and will last for many years.

Reserve Capacity (RC): The Exide Edge battery provides a reserve capacity of over 120 minutes which is quite staggering by car battery standards.

Cold-cranking Amps (CCA): The CCA rating is high enough amounting up to 710.

Conclusion: My final word on the Exide Edge battery is that you require a battery for handling heavy loads and tough terrains then this is the battery for you. A reserve capacity of around 2 hours is more than sufficient to provide your car consistent support and the CCA rating of 710 is actually quite impressive.
Interested on buying Exide Edge FP-AGM24F Flat Plate AGM battery? Check out Amazon for the current price (it maybe on sale or discount price!) and also more buyer reviews.
► See Current Price / Buy on Amazon
I hope you found this unbiased Exide Edge FP-AGM24F Flat Plate AGM review useful. If there's any mistake/error or if you have any feedback, you can send me an email.