Optima Batteries 8040-218 D35 YellowTop Car Battery Review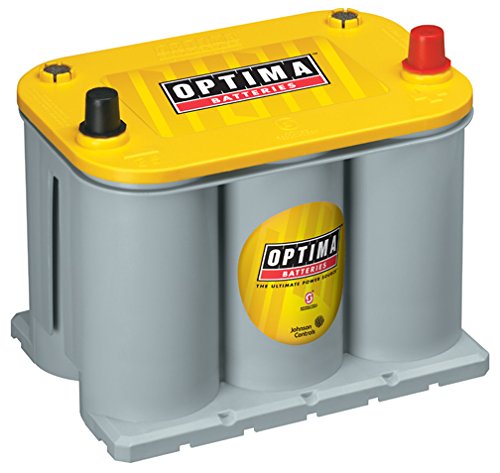 About / Description
Specially designed to provide extra performance under increased load and deep cycling, such as with off road vehicles with lots of accessories, such as additional lighting, winches, and hydraulic systems, the Optima D35 YellowTop is best for seasonal use. Self-discharge rate is extremely low, which means it is perfect for storage or use in seasonal and recreational vehicles. The absorbed glass mat or AGM design makes the battery fully spill and leak proof by keeping the battery electrolyte firmly in place, sandwiched between glass mat separators. The spiral wound design also increases electrode surface area and the high purity lead plate reduces electrolyte contamination, which leads to increased battery life.
Life: A strong durable and spill-proof design along with a low discharge rate makes this product last up to a minimum of 5 years. It may last more than 8 years depending upon its intensity of use.

Reserve Capacity (RC):You will be satisfied with its consistent performance because of its high reserve capacity of 98 minutes.

Cold-cranking Amps (CCA): A high CCA value 650 makes this product worth the price.

Conclusion: You can be guaranteed of a consistent performance from your car if you provide it this battery. A reserve capacity of over an hour and a half accompanied with a high CCA rating of 650 provides the optimum boost to your vehicle's performance levels. Summing it up, I can say that this product will give you high value for money.
Interested on buying Optima Batteries 8040-218 D35 YellowTop battery? Check out Amazon for the current price (it maybe on sale or discount price!) and also more buyer reviews.
► See Current Price / Buy on Amazon
I hope you found this unbiased Optima Batteries 8040-218 D35 YellowTop review useful. If there's any mistake/error or if you have any feedback, you can send me an email.